Page 5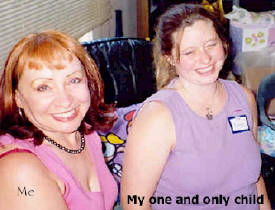 About Her
Astrological Sign: Sagittarius
Location: Atwater, California, United-States
Hair: Auburn / Red
Eyes: Blue
Height: 5 feet 2 inches / 157.4 cm
Body Type: Average
Ethnicity: White / Caucasian, Hispanic / Latino, Native American
Religion: Spiritual, but not religious
Education: Graduate degree
Occupation: Teacher / Professor

How she describes herself:
Well, I consider myself a cognitive behaviorist.  I apply what I know to my  
clients, emotionally disturbed children ages 8-12.  I am also an artist.  My   
work is of course postmodern.  It has been said to have the texture and feel
of German Expressionism.  My look is considered exotic or unique.  I have
rated a 9, with 10 being the highest, in my type and age group consistently. 
I guess that means I would be a 7 if I were 20.  I like to do artsy thigs for
fun; some examples:  hike to some remote place and draw, go to a coffee shop
and talk about movies (I like action films, sci-fi and campy stuff) and books
(I like Steven Pinker).  I love to dance, go on pic-nics, take road trips, be
physically active.  Benefits and concerts are great.  And well, yes, I enjoy
the Musem of Modern Art and gallery shopping.  Well, tahtah for now.

How she describes her match:
Gosh, I guess I am sort of smart and sort of creative.  So I would really like
someone who likes people who are...well, smart and creative.  Also, someone  
who is already launched; in other words, they have both time and money to
play.


From: joe15random@talkmatch.com
To: martyryan@talkmatch.com
Subject: Match.com - You've Got Mail: Hm...


Well, I was going to try to say something smart and creative, but, well,
I'm tired and the creative juices just aren't flowing...  I don't know
if you'd be interested in spending time with someone who is more of a
re-launch than a launch, but if so, write.

                  \scott

The following is my profile text:

I'm recently divorced, looking to have a social life but not yet ready for a
big committment.  I'm reasonably smart, fairly funny, and I've accomplished a
surprising number of my life goals, so I'm definitely ready to relax a little
and enjoy the good things in life.  I'm patient, loyal, quiet, more fond of a
small group of close friends than I am of crowds and noise.  I like going to
the movies, dining out, driving through the countryside, picnics, listening to
music, reading and I'm inordinately fond of snuggling and smooching.  My
philosophy of dating is that I'd much rather go out with someone nice but not
"perfect" than sit home alone.  I really enjoy meeting and getting to know new
people, especially one on one.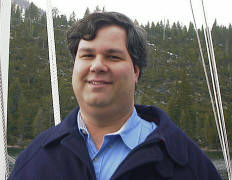 From: martyryan@talkmatch.com
To: joe15random@talkmatch.com
Subject: Match.com - You've Got Mail: Phoenix-Smith

Hello,
You made me laugh, thanks...I like that you did not put that you hate
brainiacs.  Have you ever been to 1505 on a Tuesday?  Well what I am might be
considered a kinda mix...cause I like 80's retro, goth and techno.

Did you see my photo, is it up?

Phoenix-Smith,
Please visit my website. Go to:
http://www.phoenix-smith.com

As a tenured schoolteacher, Marty was well-insulated from the vicissitudes of the technology job market. She knew that something called the Internet had come on the scene, and she had joined the world of e-mail. However, she felt that she was technologically inept, so she used WebTV, the simplest and most goof-proof system there was, supported by one of the biggest corporations around. She was vaguely aware that there had been a big Internet craze and that it had ended quite dramatically, but it wasn't personal for her. None of the one million people highly-skilled and highly-paid information technology people who lost their jobs in the bust were friends of hers. None of her students had parents in the industry, and while a couple of distant cousins had lost jobs, she was estranged from her family at the time, so there was no relevance to her in their stories.
Her take on the world, then, was quite naturally about things that were in the immediate present or recent past of her own life. And for Marty, the most important things in her life were art, psychology and her empty nest. Work was her way to support her daughter through college and to feed her art habit.
However, in the 1990s and early 2000s life just hadn't gone according to plan. Over and over again, she had gotten things lined up just right, and over and over again life had reared up and given her a big old whack on the nose.
The decade hadn't seemed to be getting off to an inauspicious start. She had her long-coveted BA degree and a teaching credential and had started in a posting as a teacher of a special day class for emotionally disturbed students. She had a special interest in that student population, as she had herself been seriously abused and neglected by her parents. She had studied cognitive behavioralism at university and she had some ideas as to how the theories could be applied in a classroom setting.
Even, there, though, teaching hadn't been in her original plan. She had wanted to follow a career in art or in psychology, but realized that she needed to be self-supporting, and teaching provided a clear path. She put the other plans aside and went with plan B, teaching special needs children.
The next detour came when Mr. Wrong slammed into her life. He took one look at her, invented a whole new personality for her, fell in love with his invention, and then attacked her when she dared to be different from his fantasy. The protections available to a young single woman in Atwater ranged from minimal to nonexistent, so she took the only course available to her - she married him, and then worked the system until he begged to be free of her.
While she was ultimately successful, it took time and money. By the time the therapist and the lawyers were done, she owned a house that wasn't worth the mortgage on it and a car in a similar state. Choosing an entertainment for the weekend meant deciding whether to save this week's 50-cent allowance for a 99-cent movie next weekend or to have a soda now.
Her primary relationship for the next few years was with her art. When faced with a choice between fixing her furnace and heating her house or buying paint and canvas, she bought gloves, warm clothes and art supplies and painted. When she introduced herself at showings, she said that she was an artist and celibate, like Morrisey of The Smiths.
Just as avidly as she had worked the legal system, she studied and worked the pay scale at her job. She eventually resolved her financial discomfort with a combination of seniority and a master's degree. On the way to that degree, working full-time with nobody at home to support her, she plumped up quite a bit herself. So, once she had the degree under her belt and a bit more money coming in, she spent some of her new-found time and money working the weight off and giving herself a make-over.
These two unplanned detours cost her half the decade, perhaps a bit more. Just when she was ready to look for something more, perhaps even a bit of romance, real disaster struck: her mammogram came back with a suspicious lump.
The doctors wanted her to do the most minimal thing, with the longest after-care: lumpectomy and chemotherapy. She wanted a mastectomy. Alone, with nobody to really consult, pushed by the doctors to conserve the tissue of her breast, she ultimately consented to a lumpectomy and radiation. What she didn't know, because it is the dirty secret of breast cancer treatment, is that with that combination she laid the seeds of trouble for the future. For then, what she knew is that she was having horrible scars put on a beautiful body, and that she was being made horribly sick by the radiation treatments.
Getting through the treatment and the recovery chewed up the next couple of years. The stress of the situation along with the natural course of life had worn her out, so she decided that before she could try, once more, to get more out of life than just working and being alone, she needed once again to spend some time fixing herself up.
One more time, Marty got herself ready to try to achieve some of her bigger goals, to have some fun and again, to try for some romance. This time, things seemed to start to break her way. A young man, a member of her social circle, made a play for her. They spent time together, they had fun. They cohabited, and things were easy and smooth and without anguish and hullaballoo.
But then, somewhere, somehow, he decided that this wasn't what he wanted. He wanted something else, something Marty couldn't give him. He quit taking his medication, left town and became a party guy, a player. She waited for him as long as he could, but eventually he just went too far away from who he had been, and she gave him up and mourned him. Before he dropped out of her life for good, he gave one last bit of advice: date some 40-year-olds.
She continued to be busy and productive in creating art, but her style of art - strongly influenced by the German Expressionists of the early 20th century - didn't go over well in unsophisticated art market of California's Central Valley. Part of her introduction to the Internet included a tour of art sites, and she tried marketing her art online, but even that effort hadn't gone very far.
2002 didn't get much better as the year ground on. Her daughter gave birth to a son in early August. On the day she was to attend a zeroth birthday for Broedy, Marty attended that morning a funeral for a former student, who had been murdered. Later that same month, she was invited back into her family fold to attend a funeral for an uncle of hers.
One despairing evening in September found her posting a profile to the Internet dating site match.com. Following her former paramour's advice, she didn't cap her acceptable age range at 30.
Posted by scott at
02:08 AM